Women's Prospect 2-in-1 Shorts with Liner
Women's Prospect 2-in-1 Shorts with Liner
FINAL SALE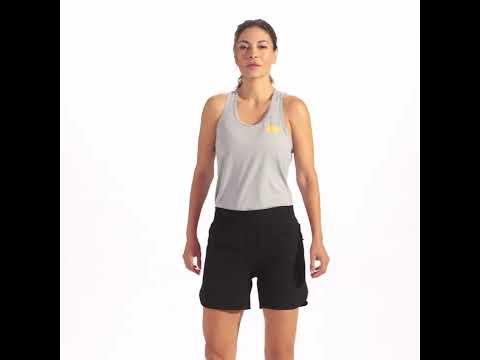 Women's Prospect 2-in-1 Shorts with Liner
SKU #17212206021XS
•
In Stock
Free Shipping on Orders Over $99
Lifetime Warranty
Named "Best Minimalist MTB Short" by Gear Junkie. From the bike to the gym and back again, the Women's Prospect Short is ready for all your active endeavors. This ultra-comfortable short is designed with motion in mind. The lightly-padded mesh liner provides additional pedaling comfort without getting in the way when you transition from the bike to other activities. You can even take out the chamois once you've arrived at your destination, if you're so inclined. Plus, the liner has drop-in pockets to securely stash items when on the go. And just in case, the exterior features a durable water-repellent finish to shed road spray.
Pedal to Zero: Going by bike 26mi / 42km offsets the climate impact of this garment
Ripstop exterior with DWR coating to shed moisture
Lightly-padded compression liner performs on and off the bike
Drop-in pockets in liner short for additional carry options
BioViz® reflective elements for low-light visibility
Removable minimal chamois pad
Standard fit
6" inseam
Shell: 91% recycled polyester, 9% spandex Liner: 77% recycled polyester, 14% elastane, 9% polyester
USE SIMPLE DETERGENTS WITH NO ADDITIVES Never use detergents with fabric softeners, perfumes or any additive type product. The general rule of thumb is the simpler the better. Many detergents with additives leave "surfactants" behind on a fabric's fibers that inhibit the technical performance. Typically the best detergents to use will have "Clear" or "Free" in their names. Don't pour the detergent directly onto the clothing, put it in the washer first, when you start the water. If something is not functionally working, but is not dirty, try rinsing it twice in warm to hot water. This will help get rid of the harmful surfactants. READ THE CONTENT CARE LABEL: On the inside of your garment, or on the hangcard, there are instructions for the care of that individual piece. On garments this will be on a side seam or back seam label. Follow those directions. On finer fabrics, use a "Gentle" cycle. Close all zippers, attach "hook and loop" closures on gloves YOU CAN USE THE DRYER, CAREFULLY: If you use a dryer be sure to use a lower / warm heat setting (Do NOT use a commercial dryer or a "Hot" setting). This will often restore the fabric and help the water and wind repellent qualities. If in doubt, hang the clothing to dry.