Men's Expedition Bib Shorts
Men's Expedition Bib Shorts
FINAL SALE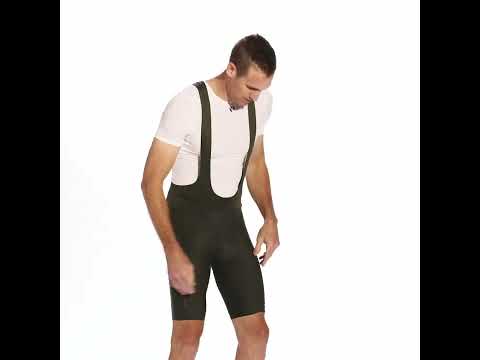 Men's Expedition Bib Shorts
SKU #11112105021M
•
In Stock
Bib performance with rear and thigh cargo pockets
Free Shipping on Orders Over $99
Lifetime Warranty
When your next ride is a big one, the Expedition Bib Short is the right choice. We integrated low profile cargo pockets on the thighs and lower back for easy access to smartphones and snacks, and the flexibility to wear any top you prefer without worrying about carrying capacity. This bib short was created to go the distance with a plush and breathable Elite Escape 1:1 Chamois that' the perfect companion for long days in the saddle.
Compressive ELITE Transfer fabric made with recycled content
Thigh cargo pockets provide additional storage options
Centered rear pocket at the base of the straps fits a shell jacket or nutrition
Men's ELITE Escape 1:1® Chamois pad with floating top sheet design reduces friction for all day comfort
Silicone print holds cuffs in place and provides a smooth transition from the short to skin
Top Panel: 35% recycled polyester, 34% recycled nylon, 31% elastane Bottom Panel: 80% recycled nylon, 20% elastane Pockets: 47% recycled polyester, 42% polyester, 11% elastane Made in Vietnam
USE SIMPLE DETERGENTS WITH NO ADDITIVES Never use detergents with fabric softeners, perfumes or any additive type product. The general rule of thumb is the simpler the better. Many detergents with additives leave "surfactants" behind on a fabric's fibers that inhibit the technical performance. Typically the best detergents to use will have "Clear" or "Free" in their names. Don't pour the detergent directly onto the clothing, put it in the washer first, when you start the water. If something is not functionally working, but is not dirty, try rinsing it twice in warm to hot water. This will help get rid of the harmful surfactants. READ THE CONTENT CARE LABEL: On the inside of your garment, or on the hangcard, there are instructions for the care of that individual piece. On garments this will be on a side seam or back seam label. Follow those directions. On finer fabrics, use a "Gentle" cycle. Close all zippers, attach "hook and loop" closures on gloves YOU CAN USE THE DRYER, CAREFULLY: If you use a dryer be sure to use a lower / warm heat setting (Do NOT use a commercial dryer or a "Hot" setting). This will often restore the fabric and help the water and wind repellent qualities. If in doubt, hang the clothing to dry.